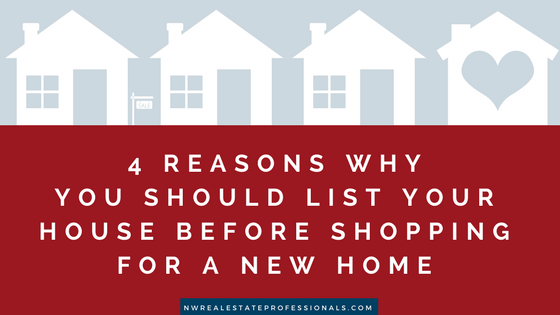 Have you been thinking about buying a new home? Perhaps you're a little nervous about listing your current house at the same time, because you're afraid it might sell too fast and that you won't find something else. People always ask if they should buy first or sell first. The answer is do both at the same time.

It's normal to feel a little anxious about the process and timing of doing both at the same time. After all, it's probably your single largest asset. Fortunately, our team at NW Real Estate Professionals, Inc of Premier Property Group LLC are experts at putting your worries to rest. We pride ourselves in making the process much easier for everyone. Here are four reasons why you should list your house before shopping for a new home.
---

Negotiating Power
If you haven't found your perfect home yet, but you get an offer on your existing home, you're not desperate to sell and get into that perfect new place. This patience puts you in the driver's seat! You can wait for the top price and the best offer on your current house. We will negotiate on your behalf to get you exactly the price and terms you want!
---

Contingent Offers
Let's assume we're able to negotiate a great price on your existing house, it still doesn't mean that you have to move out before you find your next home. We can make the offer you're accepting on your existing house contingent upon you finding a suitable new home before closing. That way you can take all the time you need to find just the perfect home for you and your family. Your dream home can become a reality, and in the time frame that works best for you.
---

You are in Charge of the Timing
By listing your home first, you control the timing, not the other way around. If you suddenly find the home of your dreams and end up getting your offer accepted, you can always reduce the price of your existing home a little to move it around in the market. Sometimes just a few hundred dollars can make all the difference! Also, increased marketing efforts can sometimes help get your home sold faster, such as an open house or broker's open. But remember, you won't have to close on your new home before selling your current house.
---

Risk Free
Since both sales will be contingent on you successfully buying or selling, it's essentially risk free to you. The risk is basically all ours. We, as real estate professionals, always run the risk of putting in the work and spending money on marketing, only to not have a transaction close for some reason. The good news is that we're professionals, and we're used to managing the risks. It's business as normal for us.
---

We know how to work with the other agents involved to negotiate the best terms for everyone. We know how to make the transaction go as smooth as possible, so you're never left out in the cold or have to worry that you might get stuck with making two payments. Trust us to make your home buying dreams a reality!