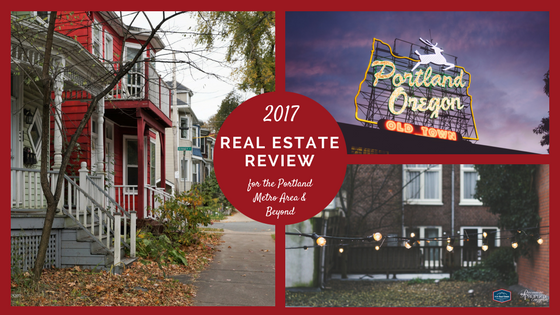 2017 Real Estate Review for the Portland Oregon Metro Area, and Beyond

One thing is certain, there is never a dull moment in real estate. Good or bad, thriving or diminishing, there is always something happening in the real estate market, and 2017 was no exception. From multiple lawsuits against Zillow, to changes in the tax laws, and so much more, 2017 was another giant year in real estate. Perhaps you've been wondering about the biggest new stories and how they impact the real estate market. This the 2017 real estate review for the Portland metro area, and beyond.

Zillow Related Lawsuits
In August and September, two different shareholders from Zillow Group filed lawsuits against the company alleging that the corporation, and two of its top executives, defrauded investors and customers by misrepresenting its co-marketing program's compliance with anti-kickback laws. As a result, the lawsuits grew to class-action status on behalf of other Zillow Group investors, and coincided with Zillow's settlement talks with the Consumer Financial Protection Bureau, which had recently concluded a two-year federal investigation into the corporations co-marketing program for non-compliance with the Real Estate Settlement Procedures Act (RESPA).
Portland Ranked High in Hottest US Housing Market
In January of last year, CBS news released its report on the ten hottest real estate markets, and Portland ranked number six on the list. They predicted a gain of 5.2 percent in home values for the year, which would be a slight decline from 2016, but still a respectable gain when compared with other markets around the country. They attributed the strong real estate market to our region's beautiful parks, outdoor recreation opportunities, and low unemployment rate.

National Disasters Impact
From Hurricane Irma, to devastating wildfires in California, Mother Nature wasn't kind on the nation's real estate market. Not surprisingly, Hurricane Harvey dealt the heaviest blow to any one real estate market, according to an August report from the Houston Association of Realtors (HAR). Home sales were strong through mid-August, but the moment Hurricane Harvey struck the area, it was like someone slammed on the brakes. As a result, total real estate property sales declined 24.2 percent when comparing August 2016 to August 2017.
Housing in the beautiful wine country of Northern California was already weak before horrific wildfires ravaged approximately 245,000 acres in the area, and burned down a devastating 5,700 structures. Authorities are still adding up the damage, but there was at least $4 billion worth of destruction and a tragic loss of 42 lives.

Tax Reform
In early December Republican leaders in the Senate and House of Representatives finally reached an agreement on a unified tax reform bill after many months of arguing and revisions. On December 20th, both houses of Congress successfully passed the GOP proposed tax reform program, the largest set of changes to the tax code in over a generation. The changes will undoubtedly have a huge impact on the real estate industry. For example, mortgage interest deduction caps for primary and secondary residences were decreased from $1 million to $750,000, and state and local tax deductions (SALT) were capped at $10,000 (when there was no cap before).